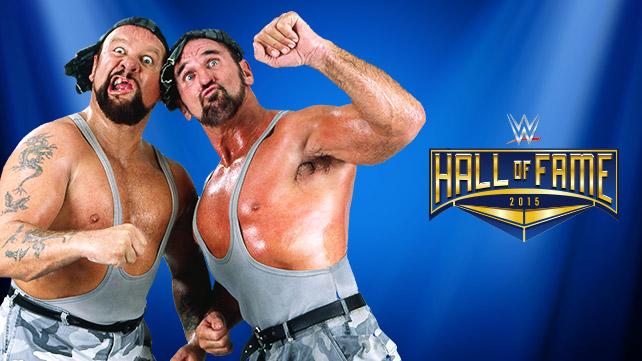 The camo-wearing, arm-waving cousins from New Zealand will join Randy Savage and Rikishi as Hall of Famers on the night before WrestleMania 31. WWE announced on Monday, "Luke and Butch will knock down the doors of the WWE Hall of Fame with their patented Battering Ram, as the Kiwis join the Hall's Class of 2015."
The most technically gifted tag team of a generation, the Bushwhackers were also promo gold and carried the division throughout their entire stay. Some have said that the performances of Luke and Butch are what inspired the comedic characters of Edge and Christian, whilst all three teams involved have been overheard saying their TLC matches were "good, but not Bushwhacker standard."
Official WWE spokesperson Joanie Laurer may have released this short statement "The Bushwhackers have no controversy surrounding children, unlike some!!"
I now invite you to offer your personal favourite moments from the Hall of Fame careers of the Bushwhackers

Dolphin Ziggler

Dolphin





Posts

: 21655


Join date

: 2012-03-01


Age

: 29


Location

: Wollongong



They do have a WON 5* match to their name believe it or not, don't think I've ever seen it though

Luke's Rumble elimination has to be the highlight though

Dr Gregory House MD




Posts

: 3590


Join date

: 2011-01-30


Age

: 27


Location

: Dundee



Ah my kinda era. When characters ruled above substance in the wwf.

I saw them twice. At Summerslam 92 when they were in a six man tag with Duggan.

Then years later when they came to my local theatre as part of a British feds wrestling night. Think it was another 6 man tag with Robbie Brookside.

Glad that WWE doesn't get too serious and rewards these kind of early 90's character's

TwisT




Posts

: 17301


Join date

: 2011-05-23


Age

: 34


Location

: Kent



Obviously most people will remember the WWF version of the Bushwhackers, prior to WWF they were seen as a violent brawling team, they turned into a comedy act in WWF and got over.

I only remember the comedy WWF version even though they have 25 years of wrestling experience before going to WWF

What stands out is the Rumble Elimination, Which took 20+ years for someone to break.
Also the random licking of people's faces. especially the backstage moments with Mean Gene

MetalMotty




Posts

: 530


Join date

: 2011-01-31


Age

: 35



Think you have him (Luke) confused with Warlord

Samo




Posts

: 4403


Join date

: 2011-01-29



Was never a fan,of these guys.

What did Luke last, 3 seconds was it?

TwisT, was also at Summerslam 92.
Enjoyed it.


westisbest




Posts

: 7033


Join date

: 2011-05-31


Location

: Bournemouth



It was a great event, I still have the VHS that I brought to try and spot me in the crowd on my dads shoulders......failed.

The LOD v Money Inc match was good to watch as we thought Hawk was acting a bit weird. Years later I was reading an article from Animal and he said Hawk was drunk. They were supposed to go higher up the card than they did and Hawk parked his Harley so close to Animal that he had to get out the wrong side (hot fuel tank side).

Bushwhackers deserve their hall of fame. Well done to them.

TwisT




Posts

: 17301


Join date

: 2011-05-23


Age

: 34


Location

: Kent



Total 180 from the Sheephearders to the Bushwhackers, as a WWF team I wouldn't say they were worthy of an award like this but if you include their complete body of work,  everything Pre-WWF then they are a deserving candidate, if you get the chance to watch some of thrir matches then give it a go, they where Extreme 10 years before ECW made it cool

Kay Fabe




Posts

: 9684


Join date

: 2011-03-16


Age

: 36


Location

: Glasgow




---
Permissions in this forum:
You
cannot
reply to topics in this forum