Page 2 of 2 •

1, 2

First topic message reminder :

Similar to what has been done for Marvel, it'd be good to have one for DC.

Films

Batman v Superman: Dawn of Justice directed by Zack Snyder (2016)
Suicide Squad directed by David Ayer (2016)
Wonder Woman starring Gal Gadot (2017)
Justice League Part One directed by Zack Snyder, with Ben Affleck, Henry Cavill and Amy Adams reprising their roles (2017)
The Flash starring Ezra Miller (2018)
Aquaman starring Jason Momoa (2018)
Shazam (2019)
Justice League Part Two directed by Zack Snyder (2019)
Cyborg," starring Ray Fisher (2020)
Green Lantern" (2020)

TV Shows (Although Not Connected)

Arrow
The Flash.

What's everyone looking forward to most from DC then? The stuff I keep hearing about BvS is really getting my hyped for that film, and Eisenberg is looking awesome as Luthor. Loving the TV shows as well, Stephen Amell has really connected with the fans well doing loads of giveaways on his Facebook page. He recently sent a little girl a video for her birthday as well, top guy.
---
Let's hope they pull it off because if they do it'll be epic!
Im not liking the Joker look at all, tattoos or none but we'll see how it pans out

I don't know why they would use Doomsday in this and not for the next Superman film, reading he is to be Luthors muscle reminds me of Bane in Batman and Robin

President Trump




Posts

: 11633


Join date

: 2011-01-26


Age

: 37


Location

: Holding cell @ Interpotatol HQ



I dont know much about Doomsday but I dont see him as a henchman kind of guy.

However, saying that, I am only basing that on the novelisation of the Death and Life of Superman which I read years ago (and am reading again currently)
He was never a henchman of any kind and its sad to see them demoting him to one, I would have loved them to go down the Bizzaro route

President Trump




Posts

: 11633


Join date

: 2011-01-26


Age

: 37


Location

: Holding cell @ Interpotatol HQ



PaulHv2 wrote:So what does everyone think of The Joker then? Recent set photos show that they have in fact kept the tattoos.
I didn't really like it, seemed to be trying very hard to be cool with the super car and the clothes he was wearing.

Crimey

Admin





Posts

: 16396


Join date

: 2011-02-14


Age

: 25


Location

: Galgate



I wonder if we'll see Doomsday released by Luthor, so that Luthor can beat him and replace Superman. Obviously this would backfire drastically. Only thing that makes this is even a possibility is that the Luthor armour has been seen on set apparently.
Zach Snyder put this behind the scenes pic up on twitter with Momoa, as you can see in the background, you can see the full Aquaman suit (yuuuussssss) a glimps of the shiney Flash suit, a none descript Black suit (Nightwing? Black Manta?) and a concept pic of Mera just beside the Aquaman suit, with JL starting to film next month watch out for more pics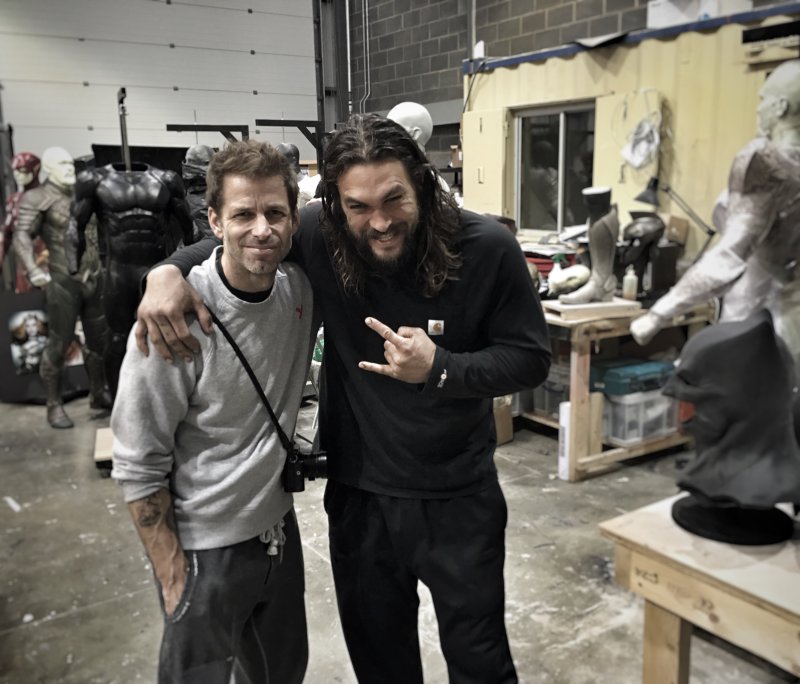 President Trump




Posts

: 11633


Join date

: 2011-01-26


Age

: 37


Location

: Holding cell @ Interpotatol HQ



Page 2 of 2 •

1, 2

---
Permissions in this forum:
You
cannot
reply to topics in this forum