Hi Guys,
Here are two lengthy interviews that Rafa conducted in Spanish and translated back to EN. He tends to be more insightful and elaborate in his native tongue, some of the things he says here give more insight into his mindset, current position and overall view on life as a top sporting athlete. Obviously interesting for "us" Rafa fans but I think a good general read too because his answers go beyond the usual hitting FH and BHs. He seems to be one of the only guys on tour that's prepared openly discuss what's going on inside himself and does so in a way that you appreciate the struggles he (and others) face in competing at the highest level all the time.
So here you go, kick up your feet, sip the coffee and read on...
L.
=-=-=-=-=-=-=-=-=-=-=-=-=-=-=-=-=-=-=-=-=-=-=-=-=-=-=-=-=-=-=-=-=-=-=-=-=-=-=-=-=-=-=-=-=-=
INTERVIEW 1:
Tennis Magazine, pre-Monte Carlo, Apr 2016
Tennis Magazine: Rafa, here we are, ten years after we've seen you step onto the highest possible level. In all that time, what have been the most important changes in your way of playing?
Rafa: I don't run as much as before, that's certain! Otherwise, it's hard to tell. I haven't made any drastic changes. It's been a gradual process, little changes. I have improved certain things but without a doubt, I have also lost a bit in other aspects… In the end, by fine-tuning a couple of things here and there, I have found a way to stay competitive at the highest level.
TM: Has your state of mind also changed?
You know, in tennis, your state of mind changes every month. If you play well, you feel well, if you don't play as well, you lose confidence. What's certain is that my passion for the game and my motivation to keep on training every day have not changed. Those have always been very high. Maybe now, I have a higher appreciation for training as when I was younger, when I always wanted to play matches. My training sessions were already quite intense of course, but I couldn't wait to get into the thick of it. Now, I appreciate each moment I spend on the court, whether it's in training or in competition, even if the results haven't as good as before.
TM: When we see you play doubles, it seems that you find even more joy from that.
I love playing doubles because there's not as much stress, not as much pressure. But in the end, you know, we love that pressure. We love that feeling of the nerves that get more intense when we step on court. That hasn't changed either. I'll always have the same stress before a match.
TM: So, in general, you still enjoy your profession as a tennis player just as much?
There's a ground rule: the more you win, the more you enjoy it. However, it is a bit different when you have been so long on tour, having had so much success. One thing is better than before: I have the feeling that these days that the public supports me now more than ever before. Without a doubt, my recent struggles play a part in this. But, it's really nice and it gives me good feelings on court. However, my goal stays the same: to remain competitive at the highest possible level. I'm very much focused on that.
TM: A long time has gone by without a victory. Wasn't that a difficult experience for you?
A bit, obviously. In fact, the most difficult part is not the losing, but it's that feeling that you don't feel capable of reaching your best level. If you play well and you lose, you generally accept that. I'm not a sore loser. You know that if you want to be a great competitor, you have to be ready to accept both loss and success. It's part of sport and especially in tennis where you can lose on a weekly basis, so to speak. It's not like in golf, where you can end as the 2nd, 3rd or 8th after a good day of competition. In tennis, the competition ends in a defeat. I'm feeling good at the moment; my game is in place and I'm in good health so that makes it easier for me to accept defeat.
TM: About victory, let's talk about Roland Garros. You're counting to 9 these days. That famous "Decima" has almost become an obsession for the public and for the media. And for you?
I'm not fixated on anything on tour. I feel a lot of motivation, but never obsession. I don't think that this sort of feeling is good for you. It's like wanting to take revenge; it can suddenly turn against you! For me, that's not what sports is all about. I have had a lot of success in my career in Roland Garros, more than I've ever dreamed off. That's all I can say, because I hope to be able to stay at a high enough level to be able to get that tenth title. I don't know if I will be able to do it, but I will do all that I can to achieve it.
TM: In your previous interview with us, you told us that 9 is your favourite number. Is that still the case?
It's true, yes. I don't know why but I have a thing with number 9. Having said that, I'm not especially superstitious. People think that I am because of my rituals on court. However, these rituals are in fact little habits that help me to stay focused. To tell you the truth, I'm not like that off court. All those little things you can do or have so that it supposedly brings you luck, I don't believe in that.
TM: In the last few months, we've heard a lot of people talk about you considering hiring a "supercoach". Perhaps that's foolish talk for you, but just as a matter of getting rid of a misunderstanding, have you ever thought about it?
Never say never, everything can happen. But what I've always believed is that when things aren't going my way, it's not because of others but it's because of me in the first place. Don't forget that in the previous year, the fact that I didn't win was mostly due to mental issues and not due to my game. The opposite is true. When I win, it's mostly due to myself but obviously, with the help of people who surround me. However, considering all the incredible success we've managed to have together in all those years and considering all the difficult moments that we've also experienced together, it would be incredibly unfair of me to put the blame of my defeats on my team.
TM: So, there's never been talk of a change?
I'm happy with my team, I'm happy with Toni and Francis (Roig, his second coach – note from the editor)… I don't know if there will be some changes in the future but if that would happen, it would for a major reason and at the moment, it's not the case.
TM: Last year, you have often talked about your doubts. Are you the sort of person who asks himself a lot of questions?
No. You know, tennis is often on my mind but not all day long. Tennis has a big part in my life but it's not my entire life either. There are plenty of other things that I love. Other than tennis, I like the same sort of things most people my age love doing. I believe it's better that way in order to not feel that you're missing out, although it's true that I can't spend the same amount of time with my friends as most people do on average.
TM: Do you sometimes think of the end of your career?
I don't know when or how my career will end. I will stop when I'm no longer happy with my life playing tennis or in case of a really bad injury. In a corner of my mind, I do think of the day when it will be time to stop. I also realise that this day is nearer than it was ten years ago. But it's not as if it occupies my mind all the time. It doesn't worry me. I'm not afraid of my post-career life, because - as I have said before - there are plenty of other things in life that I love besides tennis.
TM: Where - and against whom – would you like to play your last match?
I don't like to think about that (smiles). It's hard enough to picture it, in fact. For sure, it would have to be in my country, Spain. That would mean a lot for me, for I have known quite a bit of success in Madrid or Barcelona where the public has always been incredible with me. I would also consider Monte Carlo or even Rome, two tournaments that are close to my heart. Against whom? No idea. Anyway, retiring is not on my mind. So, it's not really a good time to try and imagine all of that. We'll talk again when the time comes and let's hope that this won't be any time soon…
TM: Novak Djokovic, a "special" opponent, is one of your main tormentors. Would you say that the level he's playing at is one that has never been reached before, not even by Roger or yourself?
I don't know. It's hard to tell. It's true that he's playing incredibly well. What he's been doing for two years now is simply fabulous. I can only congratulate him. But you must not forget that in 2014, I was number one in the race when I injured my wrist in the summer. After that, I had my appendicitis operation in the autumn. After that double cause to stop, I never quite returned to my best level. But before all of that, I was in the thick of it and I was very close to Novak's level.
TM: In 2011, you already had a series of defeats against him and then, after having changed a couple of things, a bit less weight on your racquet among other things, you managed to reverse that situation. Have you been having similar reflections in recent times: to try everything to counter Djokovic?
The circumstances were not the same. My recent problems have nothing to do with Djokovic whereas that was the case back in 2011 (smiles). I was playing well, I was beating almost everybody but I ended up losing to him in the final. Last year, I had more defeats against other players. However, I was mostly fighting against myself. So, now, I'm not in the process of changing a lot of things with the view of beating Djokovic. What I'm mostly focused on right now is to improve my own game level. I'm on the right path, I believe…
TM: Nevertheless, you did change your strings for a while before returning to your old ones. You have also gone back to your old racquet…
Yes, simply because I have the feeling that I have more control with my "old" material. The racquet I tested last year as well as the new strings generally produce less top spin for my game. At this moment in the season, it's important to me that I'm playing with the material I know best; the material I have the best feelings with.
TM: You're in the process of starting your own academy in Manacor (Mallorca). What will be your role in the first stages?
Obviously, as long as I'm playing, I can't spend a lot of time there so my role will mostly be that of an ambassador. As the academy is 5 minutes away from my home, I will be able to be more present there in the future. I don't know yet if I will be a proper coach, it's too soon to answer that sort of question. But I will be very involved in the academy. I count on passing a lot of time on court with the children, to play with them or to simply give them advice.
TM: What was the best advice you received when you were little?
When I was a child, my father once told me: if you want achieve something difficult, look for inspiration in somebody who has already done it. Don't hesitate to copy that person. If he has done it, it means that it's possible.
TM: What would you say to those children in your academy who wish to become professional players?
You know, our ambition is certainly to help those young people to become as good as they can in tennis. But above all, we want to help them grow so that they'll become good people as well. That's really the academy's philosophy. We will rigorously follow their performances at school but we will also be vigilant about their good values: respecting yourself, your opponent, the umpire, the trainer,… That's very important to me, because that's the way I have been brought up and I believe that it still shows on court. We fully realise that not every child can grow up to become a professional. But having a good upbringing will help them in their future life. With a good upbringing, everything in life will seem less difficult.
TM: Would you push your children to become professional?
I would never push anybody to become anything whatsoever. When you push somebody to do something against their will, failure is a guarantee. But I will encourage them, sure.
According to me, the sports world is a good world to live in. It teaches you real values, it urges you to take good care of your health. It's a healthy environment…well, normally it is (smiles). However, should one of my children want to play tennis at the highest level, you can be sure of it that I will fully behind him/her.
TM: Let's talk about your future. You will soon be 30 years old. How do see yourself in 30 years? What's your "old man's dream" so to speak.
First of all, I hope to still be part of this world by that time. Otherwise, given the fact that I adore children, I see myself starting a family and this is something that's always on my mind. The rest, however… We'll see what good things life still has instore for me.
ADD-ON: after winning the title
TM: And this title in Monte Carlo?
This has been a very important week for me. I've been feeling better since the start of the year than I have ever felt last season. I keep on repeating it, but it has to be backed up with titles. This victory in Monte Carlo has at least given me the confirmation of how I feel. Monte Carlo is one of the most important places in my career. To win the 9th title there, after three unsuccessful years, it's fabulous. Not just on a sports level, but also on an emotional level.
=-=-=-=-=-=-=-=-=-=-=-=-=-=-=-=-=-=-=-=-=-=-=-=
INTERVIEW 2:
El Mundo, 7th May
Rafael Nadal has five rooms reserved in his name at the Hotel AC Palacio del Retiro. The current world number five, with 14 Grand Slam titles behind him, given new life by winning his ninth title in Monte Carlo and the same number in Barcelona, is in Madrid accompanied by his family and all of his team, with whom, just hours after this interview, he went along to Santiago Bernabeu stadium to watch Real Madrid's victory over Manchester City which took them into the Champion's League final.
The interview
lasted 42 minutes
, not something that happens very frequently in interviews of this type, which tend to be hurried and not very easy going. More numbers. Much to the tennis player's press agent's surprise, there were four of us in the EL MUNDO reporting team that turned up, for that is what this era of multimedia journalism and the stature of the personality demands. Rafael Nadal (Manacor, 1986) shook us by the hand one by one, with that cordiality he has always shown. He did not appear to find it an effort to be pleasant and talkative throughout our conversation or to put up with the succession of shots taken by our photographer and the manoeuvres of those in charge of the video recording without a scowl.
Madrid's altitude seems to affect you less than before.
I've never found it bad. It's quite another thing if I'm playing well or not, my game is more secure at sea-level because there's a bit more control over everything. Here, for example, if your opponent serves well, you have less of a chance with the return.
Your results are excellent once again, once that anxiety that troubled you was conquered. In fact, you've been playing well for some time now, despite not having had the success to back it.
I think there was already a change last year in Montreal. But when you've been playing badly for a while and on top of that you have problems of anxiety, things don't happen from one day to another, there has to be a process of regaining confidence so that they go better. In Abu Dhabi and Doha at the beginning of 2016, my results were rather bad compared to how I was feeling. As an athlete, you yourself know when you're OK and when you're not, and I was feeling fine, able to do more than I did. Then I lost a few matches I was very close to winning, and being able to pull these matches off or not is the fine line between having a great tournament or not. The second happened to me, but I still had good feelings. I needed to win to confirm that personal feeling I had. Indian Wells was a huge step and it was a shame about Miami, because I was playing well.
The image of you immediately after your win in Monte Carlo - kneeling on the ground, your head back, with a very eloquent look of satisfaction - is one of great liberation.
Happy about winning and with the satisfaction of having done it at a great tournament, Monte Carlo has always been very special for me. I felt strong and able all tournament, just as in Indian Wells, capable of making a come back. When you manage to put a stop to the anxiety that causes every error to affect you much more than usual, from then on you can return to playing well.
When did you detect that anxiety for the first time and how did it begin to manifest itself?
I noticed it when I was practising at the beginning of 2015. The fact is, I was playing very badly. I made the quarterfinals in Australia, but my feelings about my tennis were bad. When you're practising badly or playing badly, I understand anxiety and nerves, the lack of control of one's feelings. Things like that happen. But then, when I practise well, I usually play well, but if these problems persist when I'm competing, then something's not working. Practising well and competing badly has practically never happened to me in my life, above all not being in control of myself on court. Last year in Miami was a clear example of what was happening. I had been practising well, but the matches came round and in the first, against Almagro, I was already feeling anxious about my breathing. The same thing happened against Verdasco. From there on, I played well in Monte Carlo, badly again in Barcelona, more or less OK here in Madrid and well in Rome. Things began to get better from then on, but I got a strange feeling again at Wimbledon against Brands. Over and above how you play or that you lose, which enters into an athlete's logic and I've never had any problems with, it was inner anguish, not being able to control your timing, the point, the ball or your breathing. When you don't control your breathing, you stop controlling everything else.
Nadal during the interview.
You've always faced up to those situations on your own, you've worked them out without professional help. The psychologist is a very common figure in tennis. Have you never thought that could help you?
I went to a psychologist once when I was a child because I found it hard to get to sleep at night.
What age were you then?
I don't know. Ten or something like that. But no.... It's also a matter of speaking to the people around you, being close to the people who know you well. You may have anxiety, but it also goes away in the end. I always thought things were going to change and go better. I wasn't in control of my personal situation on court, even though I was practising very well. No matter how much personal reflection I did, "you've been here for I don't know how many years, you've done all that you've done, you're now going through a worse time and it doesn't make any sense to be anxious at this stage of your career, when it's already practically all done' , despite knowing this and having it very clear in my head, when the time came I didn't manage to have control. But, enough, it's better not to go on talking about it. I think I've got over it and things are going better, winning or losing, but at least enjoying myself on court.
Those sleeping problems weren't completely resolved. I believe you still find it hard to get to sleep at times...
Sleeping, I sleep well now [laughs]. I'm not a great fan of sleeping, all my life I've had the feeling that I waste time when I'm sleeping. But I've also got better about that as I get older and sleep more than I did before.
Do you sense you're back intimidating your opponents the way you used to?
I don't know. One thing's clear: when you feel well with yourself, when you're confident and calm, things come more smoothly to you and your opponent usually notices it.
At Roland Garros you'll meet with David Haggerty, president of the International Tennis Federation (ITF), after having asked the organisation to make the results of your anti-doping tests public.
If only all tests were public. The speculation about sport itself would stop. Sport has to be clean and it has to appear to be so. Everything that's done so that sport continues to be an example in society and can be viewed with trust, as a positive reference for values, helps put an end to the speculation and to the people that cheat. I'd like everybody's tests to be completely transparent. If I am tested today and they have the results in two weeks' time, it's logical for them to be published. That way how many urine, blood, etcetera tests each one has would be known.
With your complaint against the French ex minister Michelle Bachelot you wanted to combat frivolity, the idea that everything is free, that you can slander someone without any consequences.
More than anything, the point came when enough was enough. There were two motives in the past for me not wanting to do anything when something had been said about me on this topic: one was because I thought the people that said it didn't have enough credibility and the other because it's a very unpleasant subject and the less it's spoken about the better. Now, when a time has come when those things are being repeated, and a person who ought to be reliable says it about me and ordinary people might think she has privileged information, then yes that's rather more serious. When a person like that makes gratuitous comments, false ones without any information to back them, the time has come when one has to stop and fight for what one is, for what one has been all one's life, and for how one has worked to fulfil one's greatest dream, which was to be a professional tennis player. Then, I've been fortunate to be prominent at it.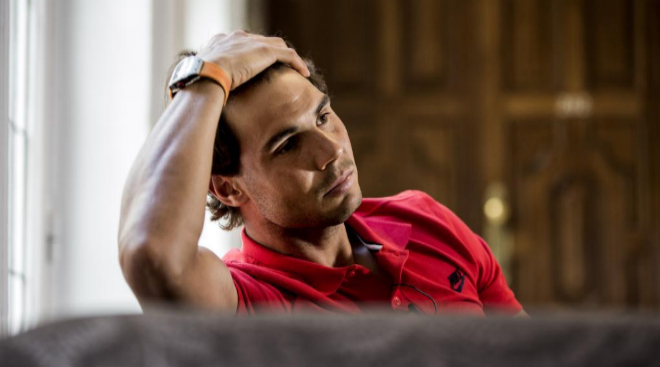 Nadal during the interview.
Why do you think you've been pointed at from several fronts?
Normally, people who accuse others without having any type of information have personal problems. When you are content and sure of yourself, you don't have to go after others. I have complete confidence and belief that all the opponents I play are totally clean. I have no doubt about that. First, because I believe in the anti-doping programme and second, because I believe in people until they show me the contrary. I'm not one of those people that think badly of others. These people do it because they themselves obviously have the personal problem of not being happy with themselves, and starting from there, looking beyond, from the technical aspect, maybe just because of my way of fighting each point, which I've done throughout my career, my style of play. Some have a very good backhand slice, others a serve that stands out, some have a very good brain, others a great physique: each one has his attributes, and that doesn't mean they come from something done wrong.
You look more distrustful than before of the communication media.
No, no. I'm not a great one for reading what's written about me, because I try not to pay much attention, but over the years you get to know the people that are good to you and those that are not so good, the people you can trust more and those you can trust less. And that's it. Always trying to respect the work of each one, as long as they respect mine. I have to be grateful to the communication media, because I am what I am thanks to them.
Well, thanks to what you have done.
Obviously, thanks to what I have done on the tennis court, but if the media didn't write about it, it would have much less significance, of that I'm sure. Then, there are things you might have read that you don't like, others you like far too much, successes and failures blown up out of proportion. That's what the press is at times, and my life is a bit the opposite. One of continuity, regularity, not putting myself up on a pedastal too much when things go very well or sinking too low when they go badly. Life continues almost exactly the same, whether you win, lose, play better or worse, and the happiness you have for a victory is momentary, because after a while you're still just as nervous... and when you lose, you still have opportunities. The press reports or experiences things in a more dramatic way, all of them. I understand and respect all opinions so long as they're as respectful as I always am with the media. It's another thing if they cross the line, go too far. I think my behaviour on and off the court has always been appropriate.. and when one does what one can, one's not obliged to do more. I've never thrown or broken racquets nor have I fought with anyone or screamed and shouted. When I've lost, I've gone home. I've always tried to be sincere with all of you at press conferences, explaining things the way I felt them, as far as possible, obviously, and that's what I've done.
About not throwing racquets, not even as a child. I imagine you've been tempted to do so at some time.
No, the temptation to hit myself on the head with it, yes, but not to break the racquet. In the end, the racquet's not to blame. Also I'll tell you something, I'm used to putting up with things, being in control of myself, thanks to my uncle and my family, who have instilled it in me since I was a child and have made me do it. That I am indeed satisfied with, and when you are in the habit of it being like that, you no longer think of doing anything else.
Dimitrov broke three racquets last Sunday in the Istanbul final.
Yes, he lost control, but it's also true that just as he broke them he went and shook hands with the umpire before he penalised him. He lost his cool at a given moment, but the truth is, he's a good boy. He's neither bad-mannered nor arrogant. He did it in a moment of frustration and then apologised.
Is your passion for the game still intact? Isn't boredom creeping in after so many years or are you safe from the erosion of your spirit with time?
Maybe I've got a bit less energy than before, maybe, but I'm still as excited as ever, to do things well, to keep on improving each time I go to practise and to give the best of everything each time I go to compete. No complaining, or protesting, or taking it badly when things go badly. I try to take things as they come and be positive about it, which is one of my great strengths.
Djokovic said the other day that you had helped him become a better tennis player. Is the feeling reciprocal? It seems as if the three or four of you at the top have taken feedback from one another in your long battle.
I think the demand made on us has been very great, with us having the obligation to be very consistent, to lose very little so as to remain in the group at the top. Djokovic, Federer, Murray, Ferrer... Maybe the three of us at the top have been very very consistent for many years and we've forced each other to be at our maximum in each match we've played, that is, want it or not, we've helped one another to maintain consistency in every practise session and be one hundred per cent professional, to respect all our opponents and know each loss is important in what may happen at the end of the year as regards ranking. And, obviously, when you see players of such a high level across the net from you, you know you practically don't have enough of anything. It's no longer "I'm going out on court and if I play well I'll win", no, it's "I'm going out on court and if I play well perhaps I'll lose". This makes you give of your maximum in each practice and you know nothing is enough, you're forced to improve.
What are the new generations lacking to be able to take the big step?
It could be two things. Either those of the next generation haven't been consistent enough or haven't had the level to displace us or we've been playing at a very high level and they haven't been capable of reaching that level. Either of the two could be correct and I don't really know which is the more valid. These days things have changed a little. Players reach their maximum level a bit later, at a later age. That's the way it is. The motive? I don't know. I don't know if it's because the players mature a bit later or exactly why. It is true there's been a generation gap, a new generation of a very good level hasn't made an appearance, but I think one's coming through now, and it's of a very high level. Kyrgios, Zverev....
Which of the ones emerging do you think has the most chance?
It looks to me as if Thiem has great potential, above all on clay courts; I think he's a candidate to win Roland Garros in the next four to five years. I think Zverev and Kyrgios are two players with unbelievable possibilities. They have no defects tenniswise. Mentality is another thing. We'll need to see how they evolve, how they respond when the time comes when you're not just a novelty with no pressure on you at all, but you have the responsibility of having to play well every week.
And the future of the game? This tendency to "belt the ball and not think", as you yourself put it a few days ago. Tiriac recently commented to me that increasing the diameter of the ball could perhaps bring back a more tactical tennis and the service wouldn't be so outstanding.
I think that (tactical tennis) is being played on clay. If you watch the matches in Barcelona, in Monte Carlo, there yes we did play long points, long rallies. It's another story on hardcourt. Nowadays the serve and the return of serve have a tremendous impact. The tendency is to play thinking less, tactics have practically no influence in matches, it's the one who's hitting the ball better, who has the capacity to hit more winning shots, who wins. And you don't have the possibility of looking for a strategic solution or anything like that. At times the ball travels so fast that nowadays the player who hits the ball first has the advantage, above all on hardcourts. It's hard to explain but, although a player is better than many others when it comes to playing and understanding the game, if the other is determined to hit the ball as hard as he can right from the start and to go for winning returns of serve, you're in his hands. And right now, this is difficult to put a stop to.
Do you see any way to remedy this?
I don't think there's any for our generation now. When I speak about this, I'm never speaking about our generation, nor about me personally, because, with these conditions, things are going and have gone unbelievably for me. But it is true that people hit the ball harder, serve faster, so that, for the future, in order to stop this it'll need to be dealt with from when the players are ten or twelve years old... and there could then be changes within the next eight or ten years.
How do you carry off being considered an example to society? Some athletes reject this label because they consider that is other people's responsibility.
To be honest, as I've never considered myself as that, I don't have to carry it off. I've always been myself, I've tried to do the things I think are right and that have been instilled in me since I was a child and, then, if that is an example to society or to the young, so be it. I try at least always to do things as well as possible. I'm aware we're in front of cameras when I'm on a tennis court and that certain kinds of things shouldn't be done, because after all there are children watching, and it's bad for them educationally to see certain types of attitudes, I think. But, at the same time, I can also tell you I've lived my career and my life in a natural way.
Perhaps that's one of the reasons for your attraction.
I don't know. I'm sure I've never hidden or stopped doing things because of photos. I've lived my life in a natural way and I've done the things I've believed were right and haven't done the things I didn't think were right. Sometimes, I've maybe said things to the press that haven't been good for my personal image and I've still said them because I thought that was the way it was. I try to be natural and do and say what I think is right.
Javier Gomá, a philosopher who's very keen on tennis, considers your exemplariness to be transversal, capable of reconciling people on the right, people on the left, people with different ways of thinking.
That's complicated today, in these times [laughs]. If only... It could... But no, not these days.
Some people would, symbolically, propose you or Del Bosque (manager of the Spanish football team) for Prime Minister.
The way things are, I don't think either he or I are prepared for such a challenge.
Do you believe the upcoming elections will solve the political situation?
I think it could be solved if they stop looking for personal benefits, and stop radicalizing everything in general, if they stop this about everything they do being right, and everything the other does being wrong. Things are neither black nor white, and to make pacts you can't always be criticising what the other does. If the PP (conservative) is in government, the PSOE (socialist) can't be criticising the PP nor can Podemos (leftwing radical), or those in opposition. And if the others are in government, the PP can't be criticising what they do all the time. I don't think anyone is in possession of the truth. I think they all do good things, and others not so good, and things have to be sorted out through speaking, discussing and reaching pacts, which is what society has voted for. But for this to happen people, parties in this case, have to give way and let the people see themselves recompensed for what they've voted. They haven't voted for anything black or white. They've voted for grey, so, the parties must come to an agreement.
What do you think of the Panama Papers?
I don't have enough information. And, just as I don't like people speaking about things they don't know about, when I don't know about things, I don't like to speak about them, either. I haven't formed an opinion on them.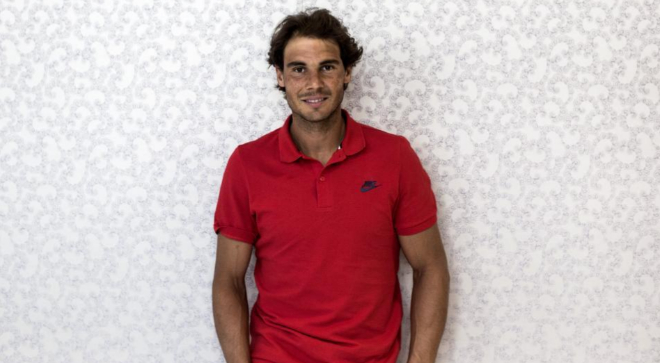 Rafa at interview end

lydian




Posts

: 9170


Join date

: 2011-04-30



Good interviews, thanks for posting. Whenever I see or read an interview with Rafa, I'm always left with the opinion that he's basically a nice chap.

The thing I thought was most interesting was:

"when you see players of such a high level across the net from you, you know you practically don't have enough of anything. It's no longer "I'm going out on court and if I play well I'll win", no, it's "I'm going out on court and if I play well perhaps I'll lose". This makes you give of your maximum in each practice and you know nothing is enough, you're forced to improve."

The stranglehold the top players have had on the game has it downsides but the effect they've had on each other is undoubtedly beneficial. If one of them didn't exist, the others wouldn't be as good.

HM Murdock




Posts

: 4749


Join date

: 2011-06-10



Thanks HMM. Yes I was struck by that also...the benefit of competing against and pushing each other to higher standards. But then they needed the talent to grow also. There are a lot of interesting nuggest in there, inc. the future of tennis and ball bashing...e.g. Tiriac talking balls, larger ones.

lydian




Posts

: 9170


Join date

: 2011-04-30



Can't read that long, but any news on his marriage? And is his sis single for me?

Jahu




Posts

: 6747


Join date

: 2011-03-29


Location

: Egg am Faaker See



Thanks for this and for taking the time to present it in an easy to read format.  Maybe a duplicate could be later added into the tennis archive under maybe a transcript of interviews section.
Looked at the first interview, I'll look at the second later.  In the first I found the following interesting:
Extract from OP wrote:
TM: Novak Djokovic ... Would you say that the level he's playing at is one that has never been reached before, not even by Roger or yourself?
... you must not forget that in 2014, I was number one in the race when I injured my wrist in the summer. After that, I had my appendicitis operation in the autumn. After that double cause to stop, I never quite returned to my best level. But before all of that, I was in the thick of it and I was very close to Novak's level.
Wrist injuries effectively ended both Del Potro & Lauro Robson's early promise of a lengthy career at the elite level.  Seems it has blunted Nadal to a degree and is part of the cumulative wear and tear the body sustains trying to stay at the very top level of the sport but which gradually and irreversibly reduces the top level performance.
I am still amazed at Djokovic bendy - elastic body, he must have very special ankles.  It is really this attribute of Djokovic that I find to be extraordinary and most distinctive of Djokovic.
Yeah in regards to Nadal being on near equal footing with Djokovic in 2014, I don't think that is as relevant because Novak in 2015 and 16 has clearly upped his level vis a vis 2014, just like Novak upped his level in 2011. But he is much more insightful, as should not be surprising in his native language.

The problem with making the ball bigger is making the ball bigger is what they tried in the early 2000s to make serving less dominant. The idea being it would be easier to return with a bigger, slightly slower moving ball. Unfortunately, while it did help returners, it ended up helping servers more. Many years ago I saw a study that found a large increase in serving precision due to the larger. In short the best servers can now more effectively carve around the ball generating that additional spin and control to produce even more free points on serve.

The added increase in serving precision will defeat another 8 percent or so ball size increase and will probably again help the server more than the returner. I mean of course there is a tipping point I mean if the server is hitting a volleyball I am sure it will be easier to return.

socal1976




Posts

: 14212


Join date

: 2011-03-18


Location

: southern california



Just a comment following Socal's comment above: can it be confirmed the women using smaller radius tennis balls?  I think Murray mentioned a while back that some women's tennis balls actually got mixed up with the balls he was playing with in one match.  Murray commented the behaviour of the balls were distinctly different to the ones he was used to: being smaller, denser, and fly through the air more quickly, with lower bounce.  The theory being the women use smaller balls to speed up their game because of their power deficits compared to the men.

All these little tweaking's of the sport actually change the dynamics of the sport and is probably the result of men (and women) discussing the entertainment factor of the game in smoke filled rooms.  All this goes well under the radar of most spectators.
Nore Staat wrote:Just a comment following Socal's comment above: can it be confirmed the women using smaller radius tennis balls?  I think Murray mentioned a while back that some women's tennis balls actually got mixed up with the balls he was playing with in one match.  Murray commented the behaviour of the balls were distinctly different to the ones he was used to: being smaller, denser, and fly through the air more quickly, with lower bounce.  The theory being the women use smaller balls to speed up their game because of their power deficits compared to the men.

All these little tweaking's of the sport actually change the dynamics of the sport and is probably the result of men (and women) discussing the entertainment factor of the game in smoke filled rooms.  All this goes well under the radar of most spectators.
Yes precisely, they do it with the surfaces, the balls, etc. Where it really gets a bit like rocket science is with the research teams of the racquet and string makers. The women need the extra pep in the conditions and tech and the men need a little of the pep taken out.

socal1976




Posts

: 14212


Join date

: 2011-03-18


Location

: southern california



socal1976 wrote: Yes precisely, they do it with the surfaces, the balls, etc. Where it really gets a bit like rocket science is with the research teams of the racquet and string makers. The women need the extra pep in the conditions and tech and the men need a little of the pep taken out.
BIB:  That's true - that's something I learnt from others here on this forum: each year a new hard court surface is prepared for the Australian Open with some sort of decision made as regards how much particles to add to the surface etc to determine speed and bounce and grip - it seems to be quite a science now.  
Not sure what the case is for the US Open - there was a year where the courts were being flooded and cracks were appearing in the surface.  
Not sure there is much influence on the clay - although I guess again there are different types of clay.  
For grass the main consideration is to get it to last two weeks especially with the development of bigger, heavier, more powerful tennis players.  Early 2000s Wimbledon changed to a hardier type of grass that led to the slowing down of the court - or that may have had something to do with the undersurface contruction, soil used, drainage etc - more science.  There was a time when some claimed that the courts ended up as a type of dirt / clay court towards the latter stages of the Wimbledon - as a form of explanation for Nadal's increasing success on it.
Yes NS, they changed the grass and rolled it with heavier weights to make the base almost literally rock hard.
I think they probably should tweak the balls...after all racquet/string tech keeps creeping up making it easier to return, to whack the ball, add more spin, etc, so why not counterbalance with ball tech too?!

lydian




Posts

: 9170


Join date

: 2011-04-30



In the first interview, he would be happy for his final tournament to be in Madrid, Barcelona, Monte Carlo or Rome. He just pretty much listed every major European clay tournament except Paris. Bit of a dig at the Parisians there.

I though the comments about sleeping were quite interesting, you are quite a driven person if you don't see a need for sleep, most of us are quite keen to stay in bed!

Henman Bill




Posts

: 5091


Join date

: 2011-12-04



---
Permissions in this forum:
You
cannot
reply to topics in this forum