Amongst the good matches at Wimbledon let us return to this stalwart of a topic...surface convergence.
Why? Because I found some interesting data to share. The two charts below relate to the Men's and Women's tours, looking at the average ralley length for all slam final matches since 1985 using a rolling 5 year average (which smooths out data peaks to show better trends).
Men slam finals - ralley length
Womens slam finals - ralley length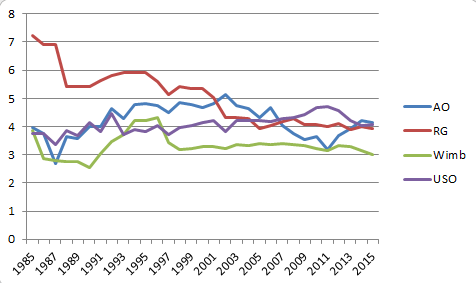 Look how close the lines are at 2015 vs. previous years.
The men's shows an overall trend up, the women's is more flat and you could argue their game has always been ralley based anyway...but RG coming down stands out...evidence of RG speeding up? Ok, its not perfect data, its not all matches at all slams...but are you ever going to see that data? This is probably as good as it gets because we don't have ITF speed index data going back 30 years.
What do you think?

lydian




Posts

: 9178


Join date

: 2011-04-30



Interesting set of data. If we accept that homogenisation began in earnest sometime early 00s, then the men's game does show a clear enough trend of average rally length increasing (at least at the non clay slams) and the gaps between the surfaces closing.

The women's game is rather different. As we know, homogenisation is not just about the surface, it's also about the balls and other stuff, and not sure if the women's balls changed with the men's or not. The women if anything have had slightly shorter rallies since early 00s, with a clear distinction between Wimbledon and the other three slams (which all have similar rally length). I suspect the reason for this might be the emergence of the Williams sisters and their brand of power tennis, which has driven the game in that direction rather than long rallies.

Mad for Chelsea




Posts

: 12090


Join date

: 2011-02-11


Age

: 34



Thanks for posting this. Interesting data and supports what I and others always thought - US Open and Wimbledon have got faster, while French Open and Australian Open have stayed the same. As it's just based on the final, it will depend on individual styles, so even with the moving average I wouldn't read much into swings on a 5-year basis. Sampras and Ivanisevic reaching so many W finals in that time would have dragged down even a 5-year average.

The change at Wimbledon in particularly pronounced. I am surprised that the average rally length is less than 2 in some years in the 1990s, I find that hard to believe. I suppose if a return goes wide or long or into the net, is that a 1-shot rally since the 2nd shot did not work out. If yes, the stats look quite believable. Otherwise hard to believe 1.8 as average rally length, I would have thought 2.5 or so.

I would guess the women's game has changed because of improved quality and more racket power meaning more players can end points more quickly. In the 1990s at RG you probably had players just mooballing over the net to each other, and that's probably less common these days, even on the women's game.

Henman Bill




Posts

: 5224


Join date

: 2011-12-04



Very nice data, thanks Lydian (I wonder who went through the pain of counting those strokes).  Pretty consistent with what we intuitively see with the naked eye - the game is becoming more similar across the surfaces, and it is slowing down.

summerblues




Posts

: 4551


Join date

: 2012-03-07



---
Permissions in this forum:
You
cannot
reply to topics in this forum