+6
Shotrock
puligny
Be_the_ball
kwinigolfer
Roller_Coaster
GPB
10 posters
Page 2 of 2 •
1, 2
First topic message reminder :

1).What a performance at The Players last week, but from an unexpected source (or two)!
Si Woo Kim first earned his Tour card at the age of 17 when he was below the minimum age for Membership! He played the web.com Tour in 2015 to win some pocket money and re-qualified for the Tour Membership that he couldn't take up for the 2015/16 season.

2).He was enjoying a solid "rookie" season when he played well at the "Barbasol" only to lose in a play-off to Aaron Baddeley - he rather fluffed his lines that day, but made no mistake when he ran away from a decent field in Greensboro to win by five strokes. Middle rounds of 60 & 64 will do that. He carried his fine form thru the FedEx Play-Offs  and finished 10th in the Tour Championship. . . . . . . .

3). . . . . . . . and promptly played his first 18 x 2016/2017 tournaments without a Top 20 finish, just about last on Tour in several ball-striking categories. If The Players had been a horse-race there'd've been a Stewards Enquiry, and probably investigations into unusual betting patterns.
No argument about last week's win though; it seemed every missed fairway, and there were plenty, was followed up by a successful scramble, some brilliant. By the time he made the turn, courtesy of a huge slice of luck on #9, he was clear of the field and seemed to play the back nine in third gear as challenges receded. Only half a dozen players (all who've played 20 events) have teed it up more times than Kim's 19 this year and persistent back discomfort seems to have persuaded him to call in sick this week.
He's something of a protege of KJ Choi, and KJ and one or two fellow countrymen followed Kim over his final few holes at the "Barbasol" - good to see that week, and now he's almost a dead cert for Presidents Cup play.
One thing: He reckons that if he wasn't going to be a golfer, he'd've been a professional footballer - not with that shape you wouldn't, mate.

4).And then there was Ian James Poulter - what's not to like about his performance last week?
OK, Golf Channel, you've picked plenty of holes but screw you, this was Poults almost better than his best, and in the process ensuring his "playing privileges" for 2017/18 (Rafa too) almost certainly into the PGA, and in good form as the points are counted down to Open and US Open qualification. And, remember, this Open is at Birkdale where IJP runnered up behind Harrington in 2008.

5).Some epic collapses at TPC Sawgrass, and not just by JB Holmes who's been there and dome that, notably at Harrington's PGA at Oakland Hills. Weird though, in that he's played very well with the lead, too.
Rahm's 3rd round 82 was his worst score on Tour by 6 strokes, and what's with Kuchar, cruising in with a 3rd round 81? (A very uneven season for Kooch so far, not sure why.)
Spieth and Justin Thomas missed out on Sunday play, where Jason Day ballooned to an 80, just to keep McDowell & Rose company. Don't often see such carnage, especially on the weekend.

6).Amidst the "international" flavour of the leaderboard, it's easy to forget the interesting trifecta of the three Americans to finish in the Top 11, Stanley, Glover and Steele, all in dire straits a couple of years ago because of their putters:
Steele had to migrate from his anchored style which he campaigned vigorously to hang on to. Fair to say he's probably transitioned just about as well as anyone.
Glover and Stanley because they couldn't hole a thing. A few years ago I watched Glover 5-putt from 4 feet at Oak Hill, whilst a year later we hung around the putting green in Montreal while Stanley struggled to hole 3-footers. Great ball-strikers both and very happy to see them both somewhere close to their best.

7).A long ago "Byron Nelson" was only the second Tour event I'd followed, the final year, I think, at Preston Trail, a parkland course with nice elevation changes in the salubrious North Dallas suburbs. It was a good course, a fair test, but either the members wanted the Tour gone or the Tour wanted to capitalise on a TPC they'd just opened in non-descript Las Colinas.
Jay Morrish is labelled as the architect with an assist from Byron Nelson, but Morrish must have been drinking and Nelson losing his sight because they conjured up 18 of the most boring holes you'll ever find in championship golf. D.A.Weibring put his name on a much-needed tarting up a few years ago, but it still ranked 49 out of 52 courses rated by Tour Pros six years ago. Two examples of the snarky comments:
"The worst course we play on Tour, Just terrible all round."
"It's a 4 (out of 10) because I like D.A.Weibring. And it's a good thing there's a Four Seasons there." And I can vouch for that.
Las Colinas is a dump and the course fits right in.

8).But wait! After 35 years the Tour is taking its Dallas stop to Dallas again. Imagine that! They're off to a 400-acre tract south of the City including a disused landfill that the architectural cavalry of Coore and Crenshaw have turned into "Trinity Forest Golf Club", next year's Byron venue. This is what pgatour.com had to say about it:

http://www.pgatour.com/long-form/2017/05/16/early-look-trinity-forest-att-byron-nelson.html

Looking forward to seeing it.

9).Anyway, there's an interesting field turning out to say goodbye this week, quite a few top players, and dozens at the lower end. Dustin Johnson is here, coming off his best ever Players result (12th), former champ Day looks to rebound, and so in their various ways do Spieth and Garcia, who beat Koepka in last year's play-off. Brooks is back, plus Charl & Louis, and Kuchar.
Poulter leads the Europeans, at a place where he has some form, but otherwise they've mostly taken an early flight to Wentworth.

10).No brilliant ideas for the winner, but Spieth badly wants a "W" in his hometown and DJ has six straight Top 20's here. Sergio would love to win a third time at the tournament which gave him his first Tour invitation. He finished 3rd that week, in 1999.
Ryan Palmer and JJ Henry have local ties and occasional good form here and may be worth a longshot look.

But, despite the harping and carping about the course, this is one of the best-run tournaments in the country with one of the largest contributions to charity orchestrated by the Salesmanship Club of Dallas. As one of those Tour Pros said about the place:
"It's a great event, a great charity but just not a good piece of architecture."
Can't have everything I suppose.

kwinigolfer




Posts

: 26475


Join date

: 2011-05-19


Location

: Vermont



---
GPB wrote:

Its in a Briittany Horschel tweet, but there is some

Spoiler:

godbothering

in the tweet, so I didn't post it.
Cue super_realist googling:
https://media3.giphy.com/media/bAplZhiLAsNnG/giphy.gif?response_id=59235402415de039f8eb2fdb

pedro




Posts

: 7336


Join date

: 2011-01-28



GPB,
golfchannel.com has also carried the story. Courageous young lady to tell the tale; Horschel was a proper horschel's arse when he first came on Tour, but he's great to follow and has the game to reach the top ten in the world, no doubt.

kwinigolfer




Posts

: 26475


Join date

: 2011-05-19


Location

: Vermont



Looks like red putters are going to be the next thing.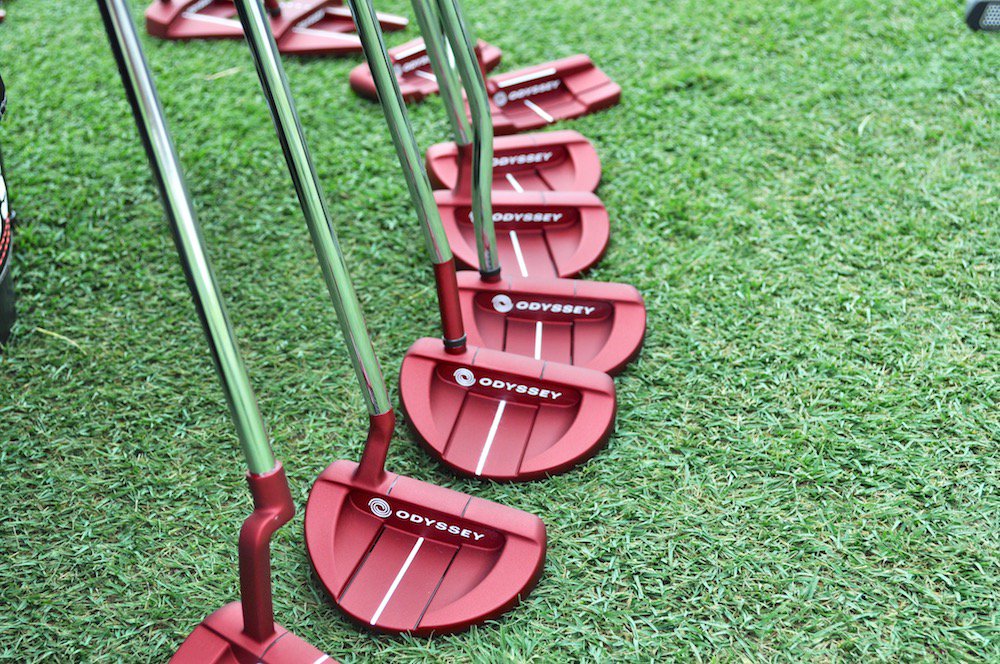 McLaren




Posts

: 17270


Join date

: 2011-01-28



Saw that Mac. Odyssey offering red ones on the back of the Tour popularity of the TM Spiders (J Day).

At least I haven't seen any "Red putters are proven to do x, y or z" only reference to their popularity and subsequent questions from punters on the back of Tour use.

Roller_Coaster




Posts

: 2572


Join date

: 2012-06-27



The thing with clubs that are coloured like that is that the paint tends to flake off over time leaving the club looking really shabby.

McLaren




Posts

: 17270


Join date

: 2011-01-28



Page 2 of 2 •
1, 2
---
Permissions in this forum:
You
cannot
reply to topics in this forum